All features
stay connected and informed
Activity Feed
The Activity Feed is driven by behavioural data, and keeps you up-to-date on team, project, and task updates. It's not just a feed: It's personalised, based on your preferences and provides reminders, task updates, notifications and suggestions.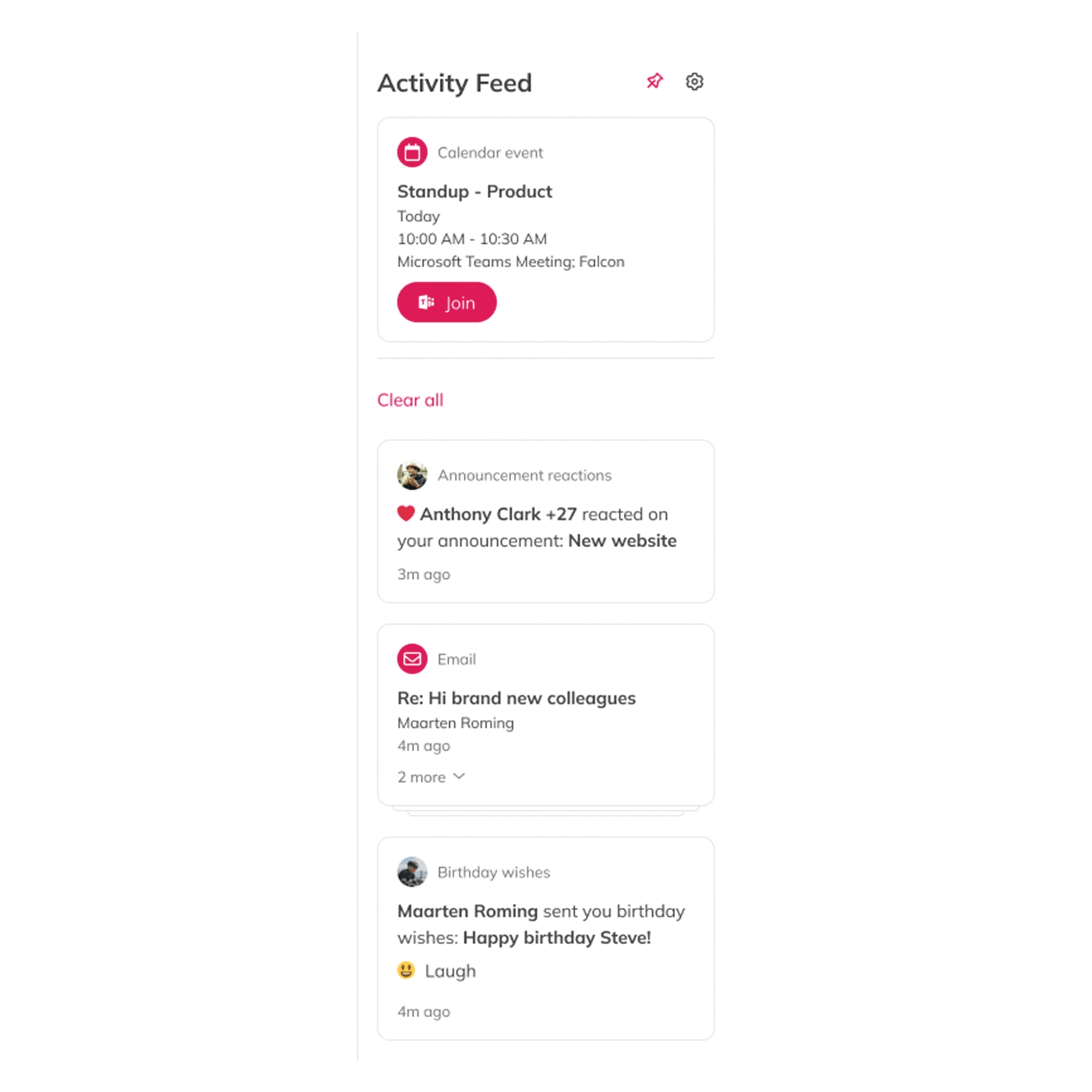 Elevate your workflow
Work quick and smart
The Activity Feed shows real-time updates and notifications. You have insight into all your activities, tasks, news, and notifications in one adaptive digital workplace. The notifications are conveniently organised by category for easy browsing. Stay up-to-date
Real-time updates and notifications
Receive notifications regarding application access, calendar appointments - with direct meeting participation, news articles, announcements, birthday wishes, and much more! The Activity Feed keeps you in the loop, so you can stay focused on what matters most.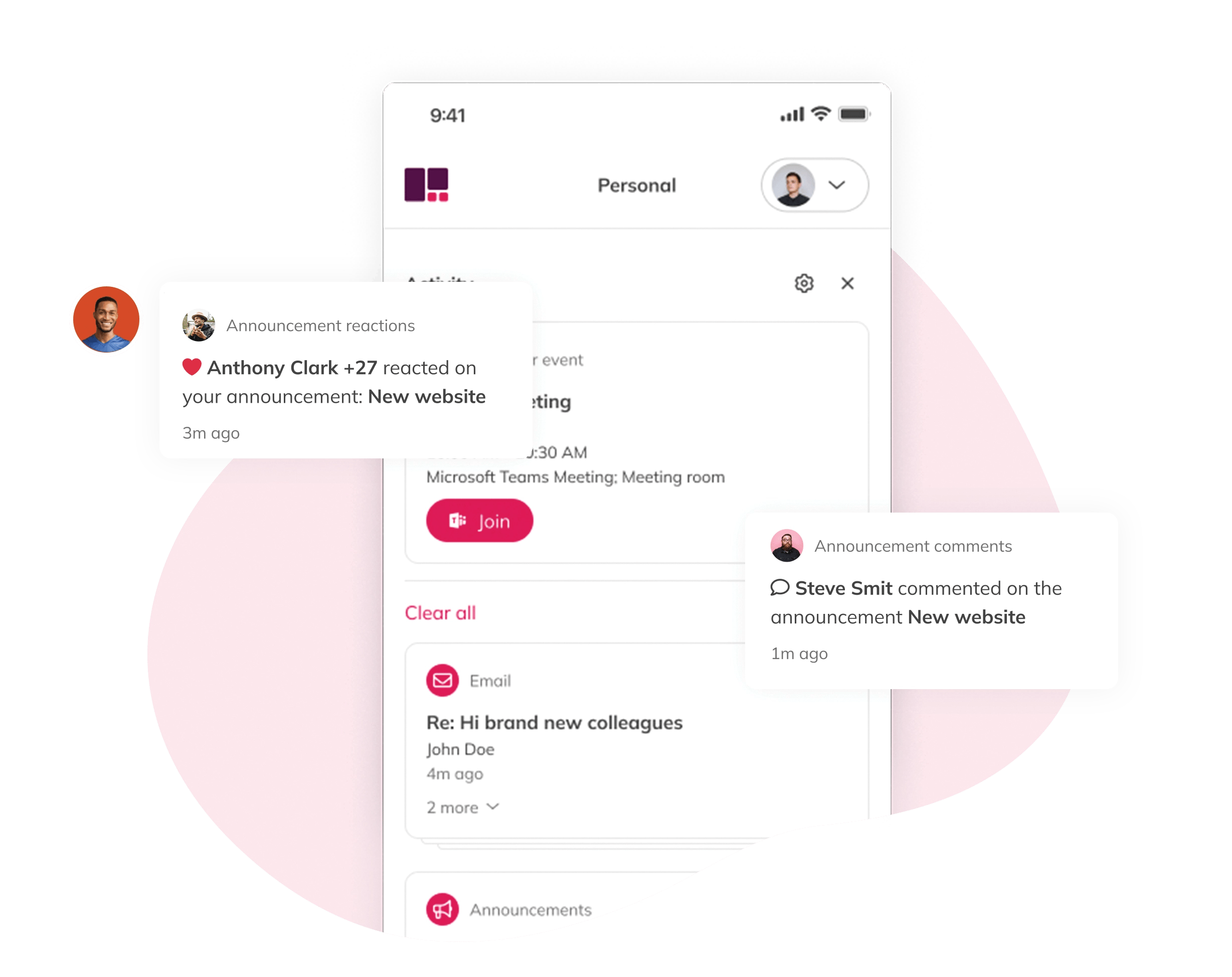 Activity Feed API
Integrate third-party applications with our API
Seamlessly integrate third-party applications, including TOPdesk, CRM systems, Salesforce, Monday, and thousands more, using our Activity Feed API. Unlock a new level of efficiency by bringing all your notifications into one unified digital workplace.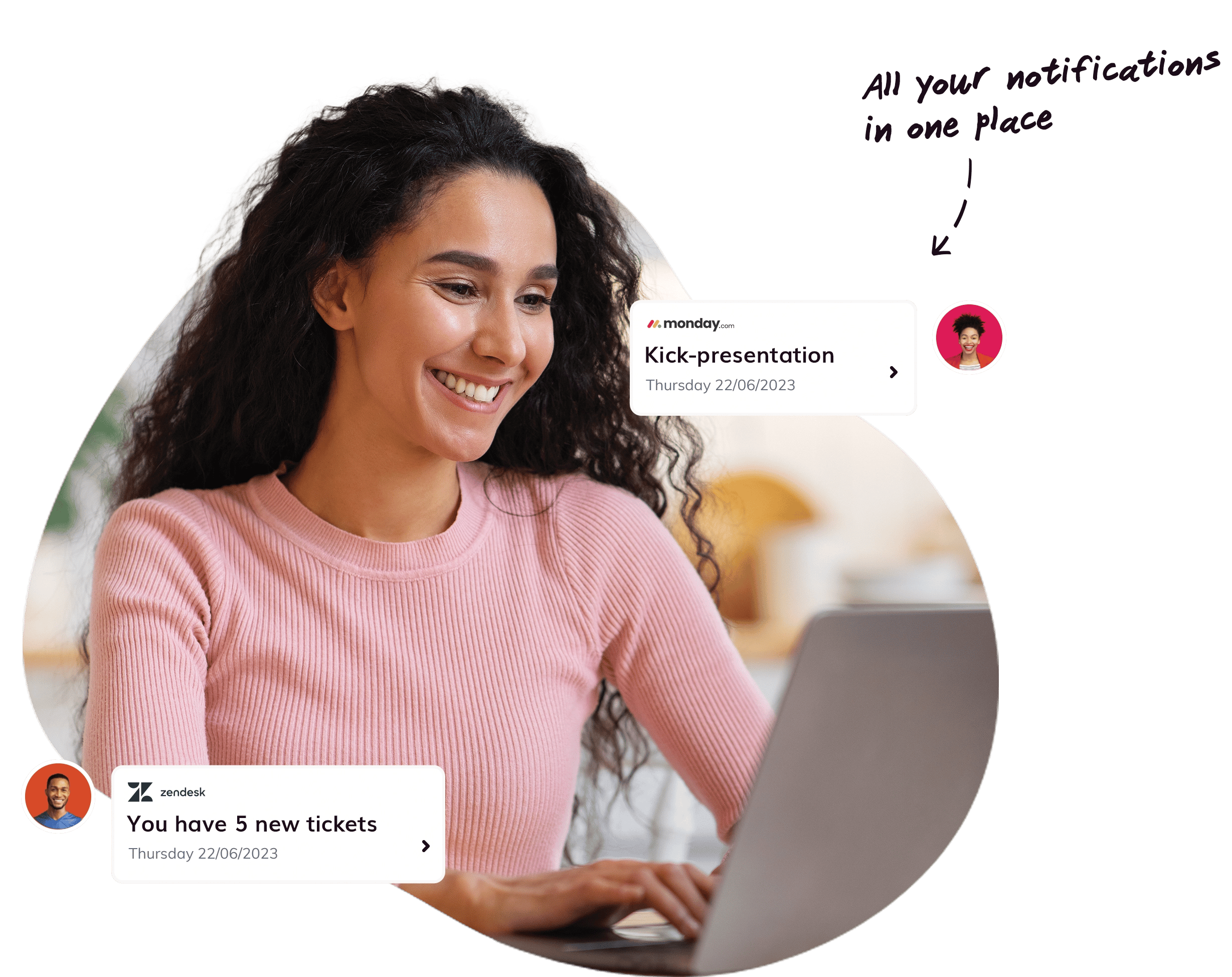 Save valuable time
Manage tasks and approvals
Save valuable time and reduce administrative hassle by effortlessly managing tasks, approvals, and notifications without having to navigate through multiple apps. The Activity Feed lets you work more quickly and smarter.
Activities and notifications
Daily or weekly briefing
Activities and notifications
Daily or weekly briefing
Manage activities and notifications
Filter or mute activities and notifications to your personal needs and really focus on what's important for your work day. Integrate notifications from different platforms or third-party applications, deciding which notifications are relevant for specific departments, and preventing a possible information overload.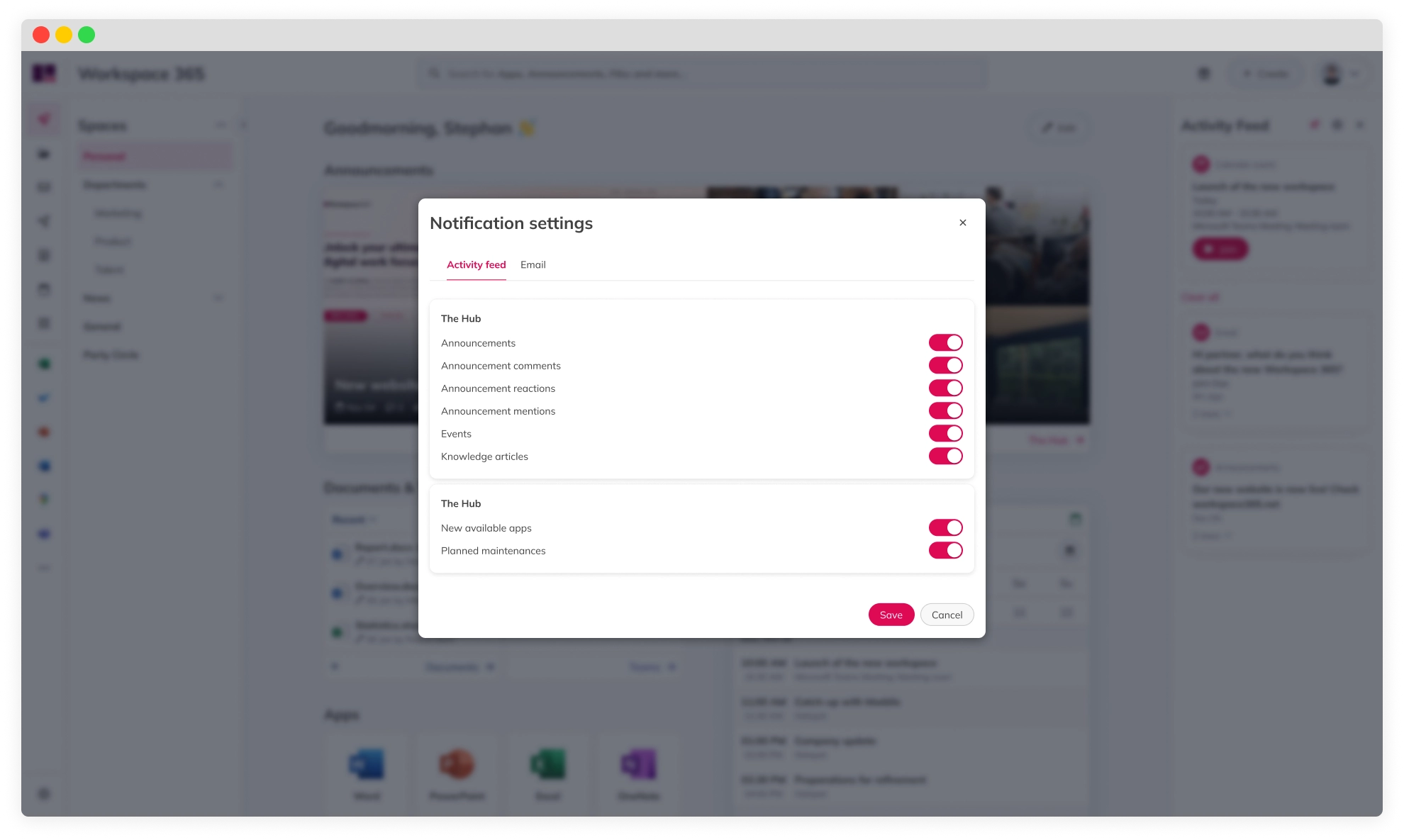 Daily or weekly briefing
The summary email gives you an insightful overview of the previous day or week in your digital workplace. From announcements to birthday notifications, to new available apps and more.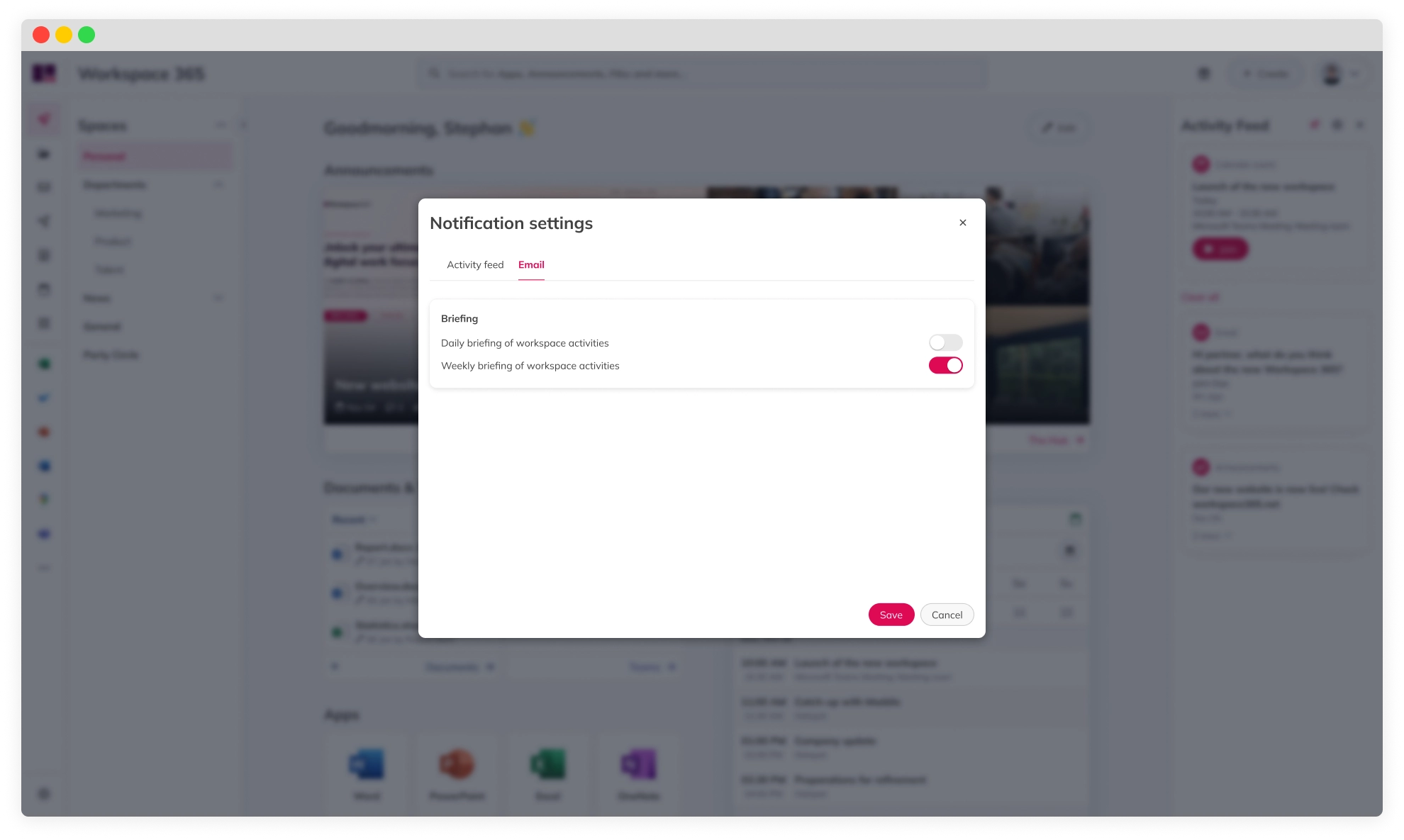 Feedback
We are continuously improving our product
We're always on the lookout for ways to make our platform even better, and we truly value your feedback and input. Is there a feature you think is missing from our product? We'd love to hear about it so we can add it to our roadmap and keep working towards creating the ultimate digital workplace just for you. So don't hesitate, let us know what's on your mind!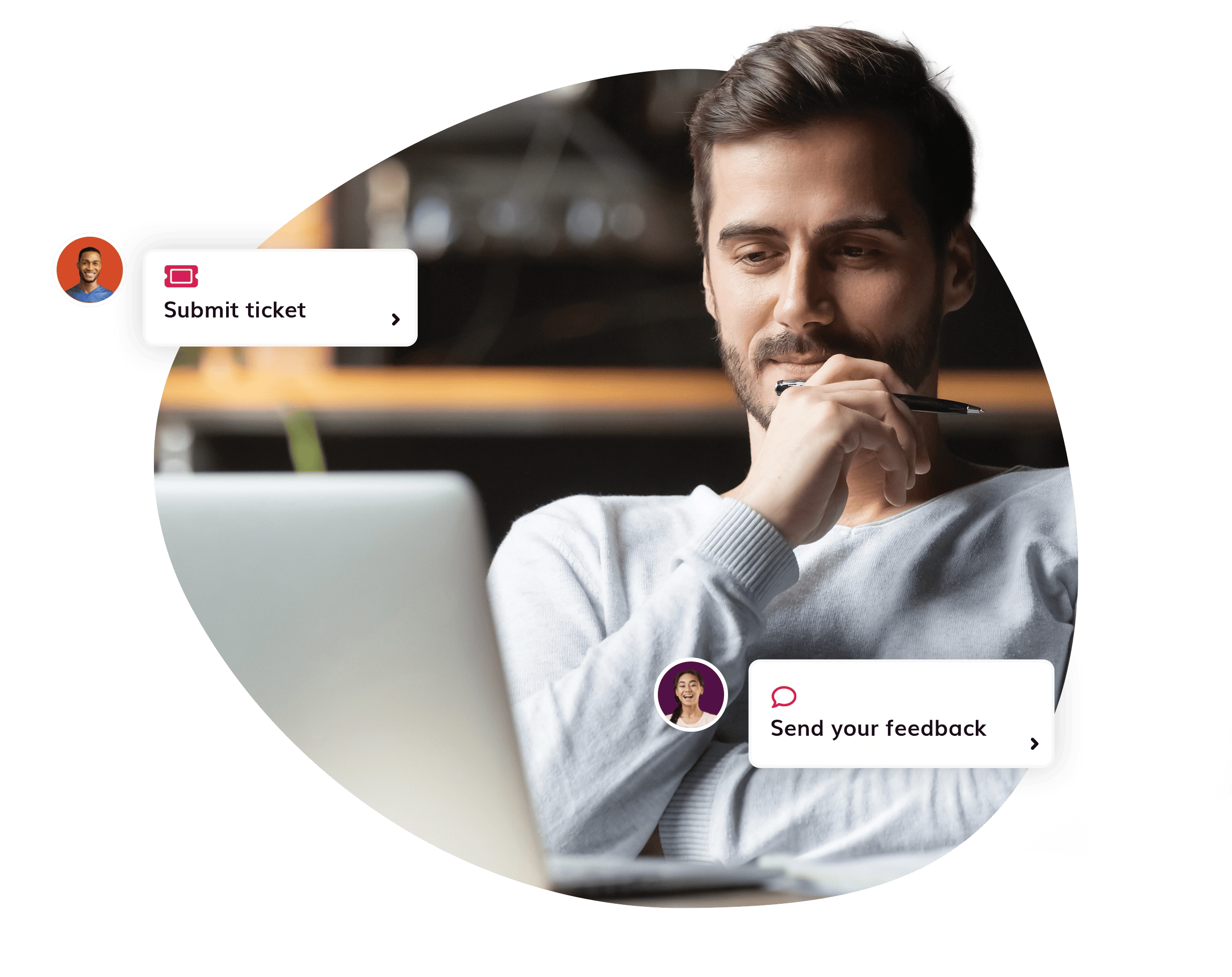 Unlock your digital work focus today!
Help your employees harness their full potential with our adaptive digital workplace.