Everything simplified
The new Workspace 365
We want all users, regardless of their technical background, to experience the satisfaction of working effectively. That's why the new Workspace 365 puts the emphasis firmly on employee needs, so they can unlock their ultimate digital work focus.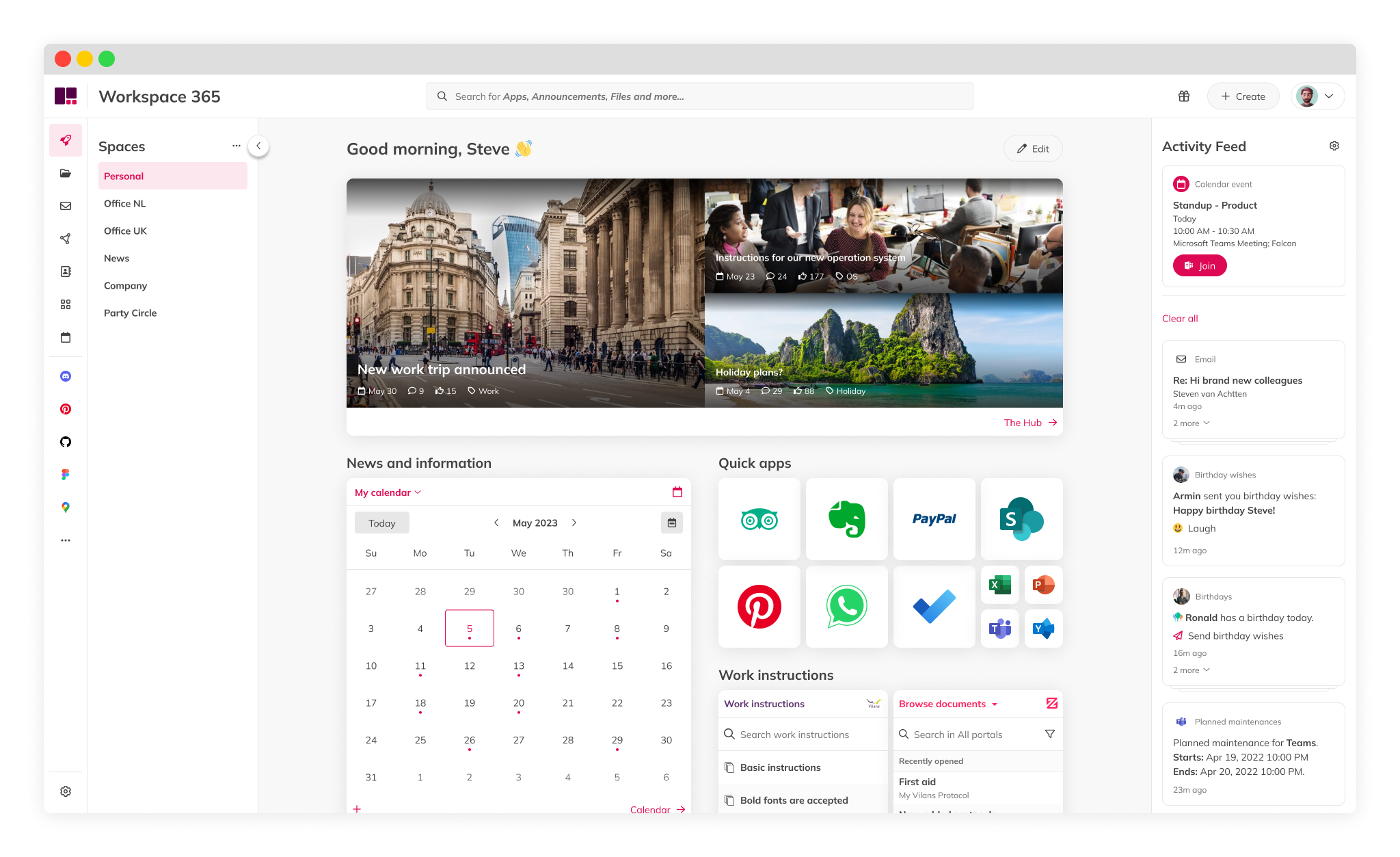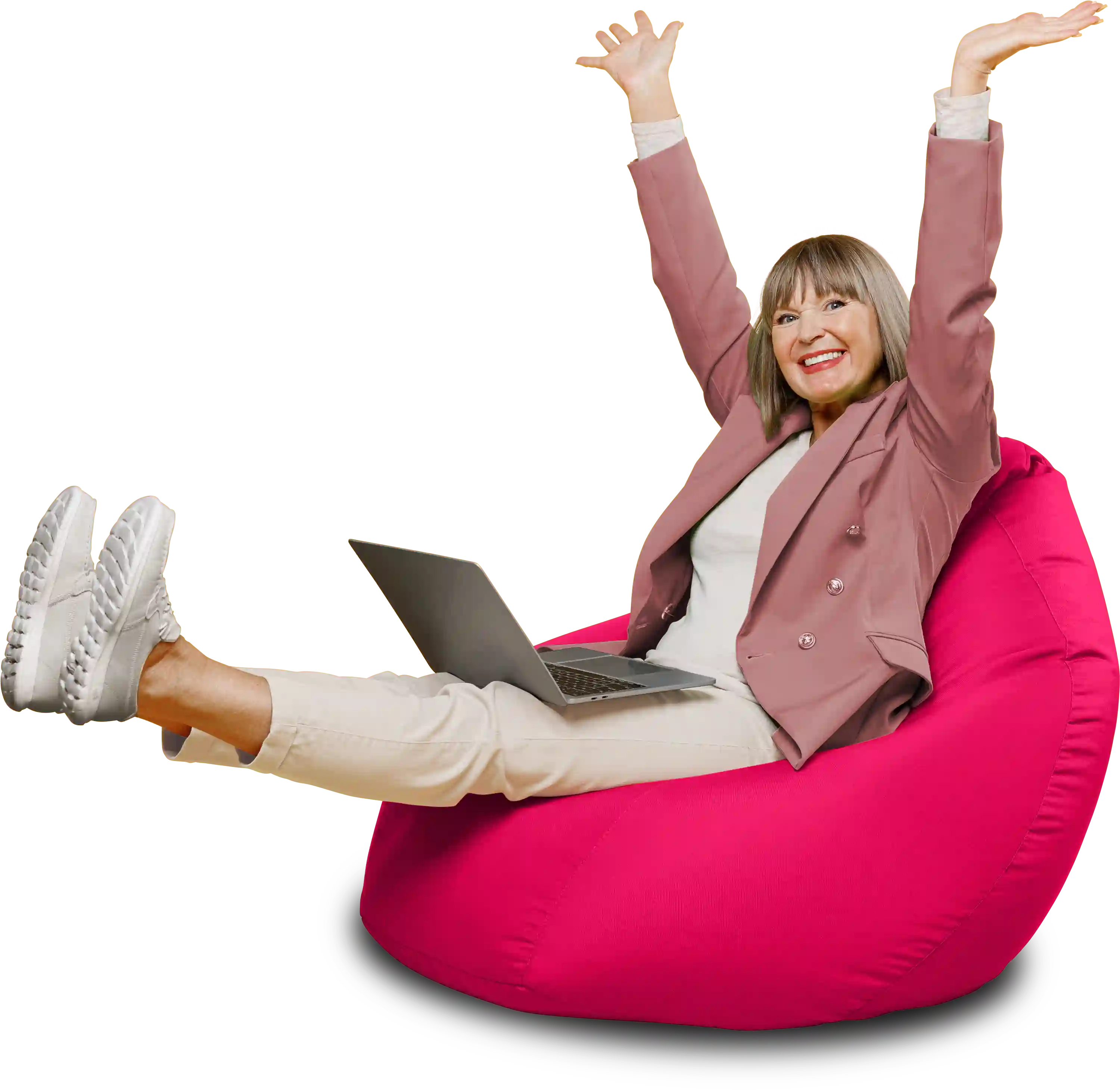 Join the 1,500 companies+ using Workspace 365 Simplify the digital experience
Unlock your digital work focus
Workspace 365 helps employees to be more productive, to stay organised and engaged, and to make well-informed decisions. Simplifying their digital experience provides the key to great work. With Workspace 365, your documents and all your applications are simply a click away. Everything simplified.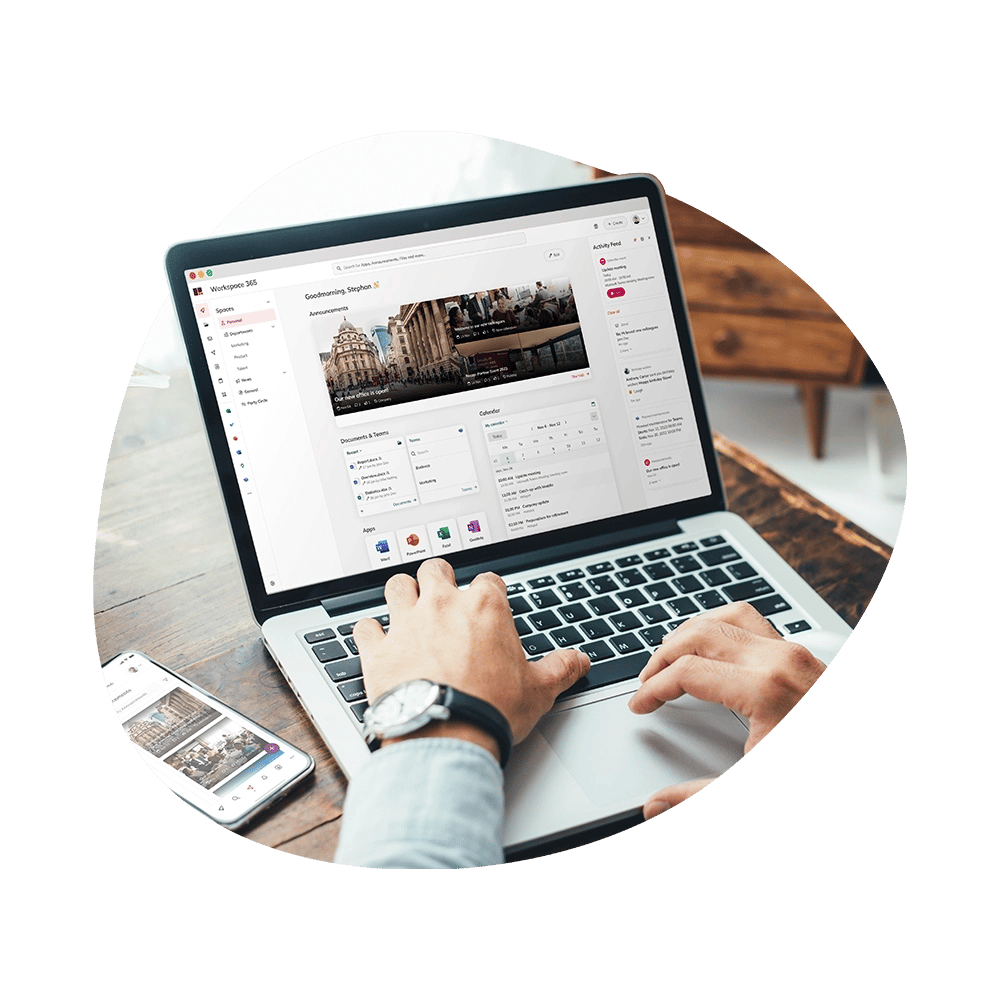 Optimal user experience
Simplified interface
A cluttered digital workplace can hinder productivity and create frustration. Our new simplified interface has been developed for the optimal user experience. We've maximised available screen space.
The Navigation has been both enhanced and improved. It's now located on the left-hand side to make accessing your essential tools and applications easier. It's intuitive, efficient, and can be tailored to your specific needs.
Improved navigation
Optimal use of space
Consistent interface
Improved navigation
Optimal use of space
Consistent interface
Improved navigation
Extensive user experience research – including office-based, hybrid and front-line workers – has shown that moving the navigation to the left-hand side improves navigation flow and reduces the need for scrolling. Navigating is now quick and simple.
The new layout also frees up valuable vertical space in the header. The result is improved clarity and content relevance. It also allows for a more prominent place for our Global Search.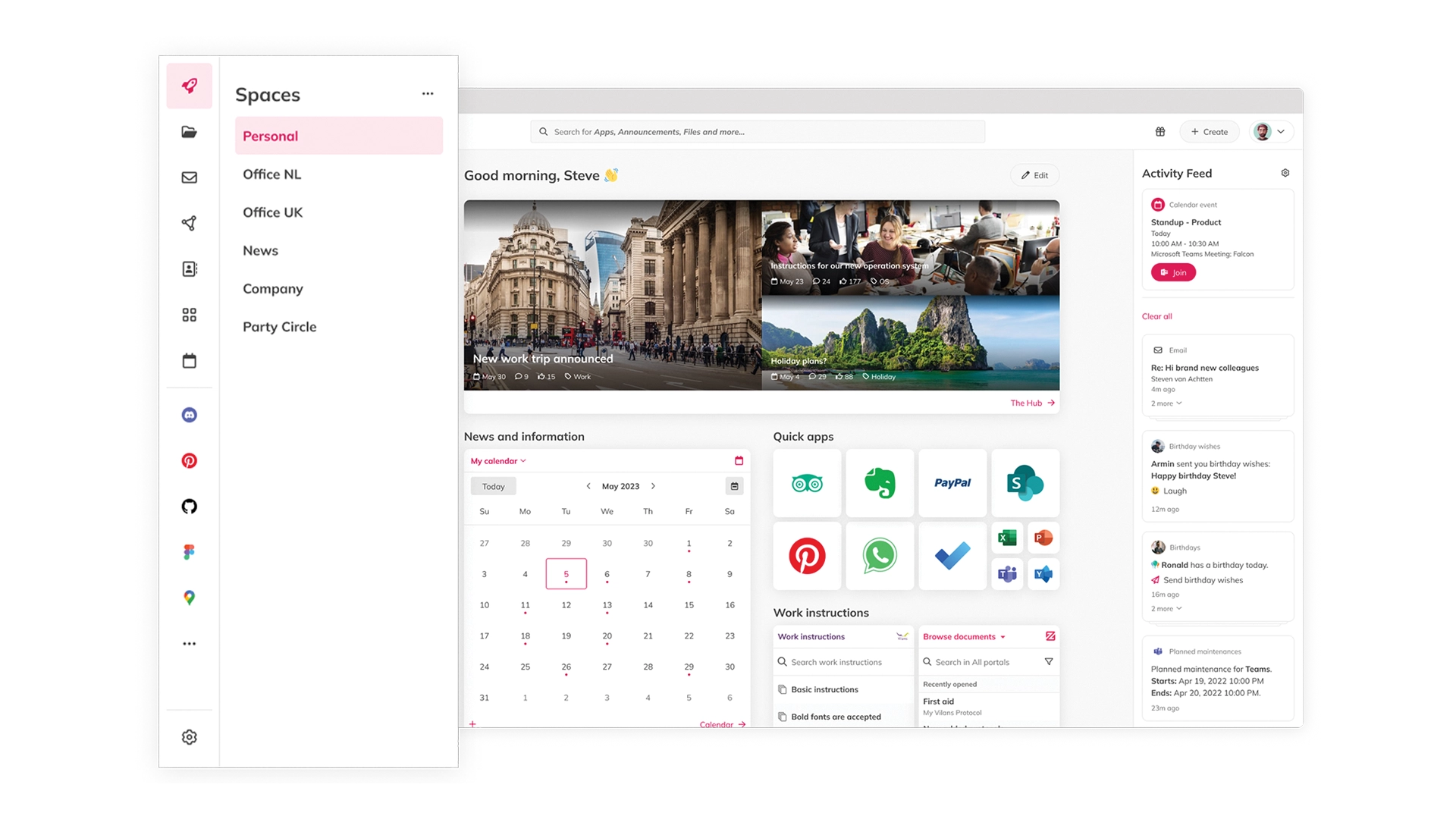 Optimal use of space
The introduction of left-hand side navigation and a pinnable Activity Feed allows the switch from a three-column to a two-column layout. This gives you more flexibility to customise the display to suit your needs. You can pin or unpin the Activity Feed or collapse your navigation as it suits.

The new Workspace 365 seamlessly adapts to the available space, allowing you to create your ideal digital workplace.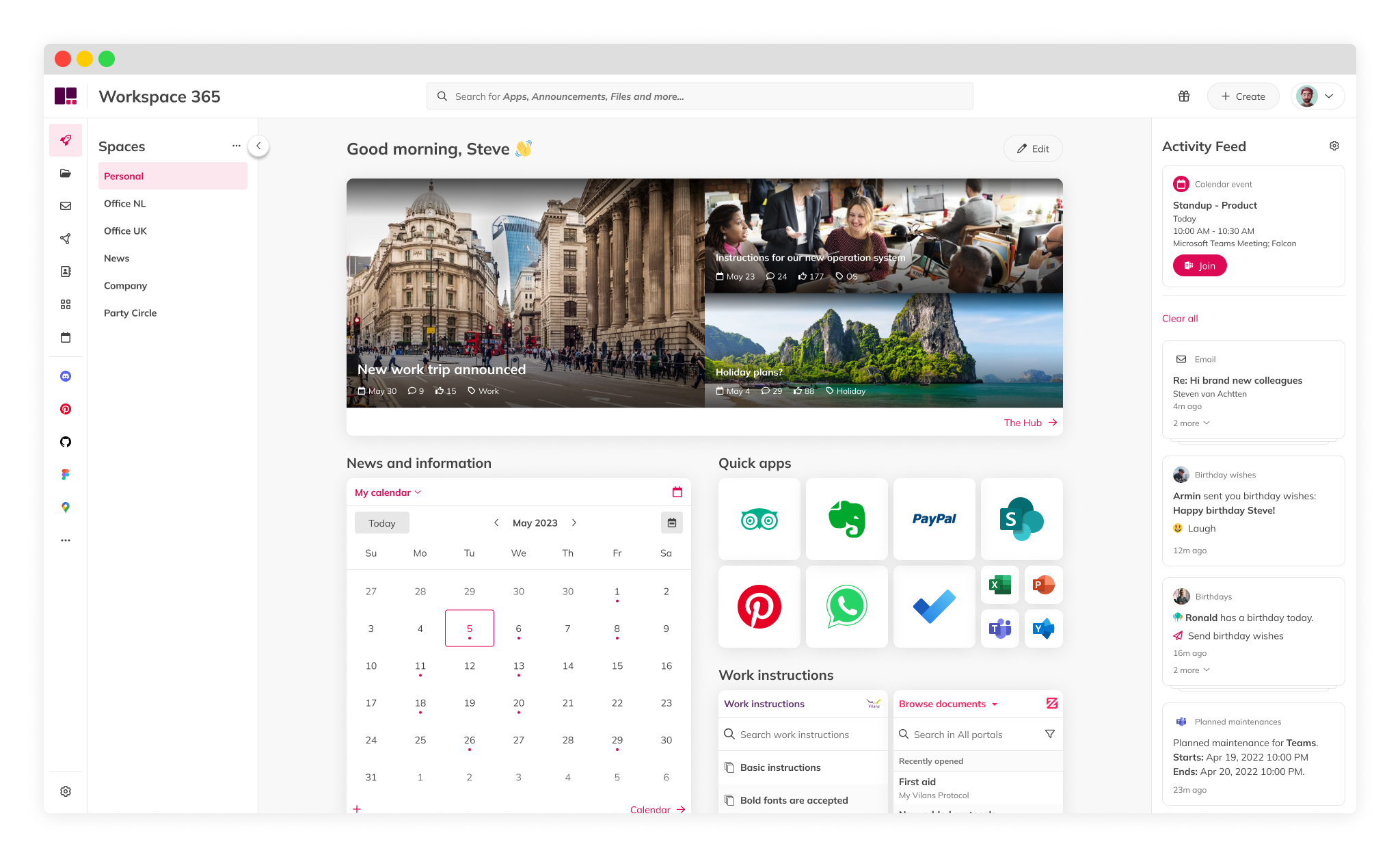 Consistent interface
We've ensured the user experience is consistent across different platforms and devices, including mobile, tablet, and non-responsive modes. Wherever you're working, on whatever device, you'll find the same ease of use.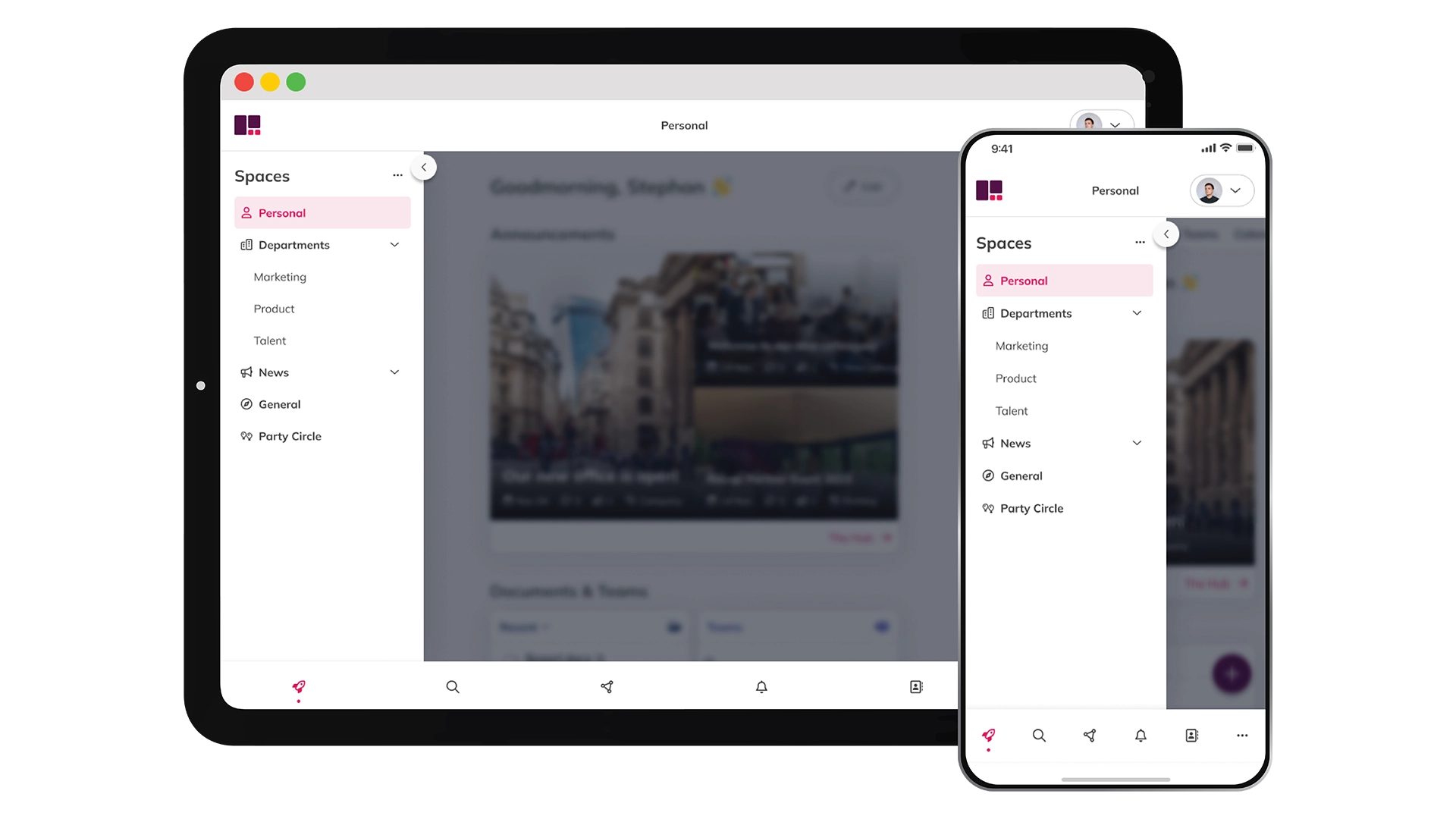 Seamlessy connect with colleagues
Simplified access to information
Information matters. We know news and announcements are important and that organisations need an effective way to share relevant information, details of events, and celebrate successes.
We also know that too much info, from too many voices and too many places can be overwhelming. If that happens, critical info doesn't get through. With the new changes in the Workspace 365, we simplified access to relevant information.
You can seamlessly connect with colleagues, manage your agenda efficiently, and stay well-informed about internal news, events, and important knowledge articles.
The Hub
Calendar app
Address Book
The Hub
Calendar app
Address Book
Changes to the Hub
The Hub has a new dedicated, central location, perfect for sharing important company announcements, knowledge articles and events. The central location is convenient. It streamlines internal communication, enhances collaboration and boosts productivity. By simplifying information access, it saves time and enhances engagement, contributing to an improved Digital Employee Experience (DEX).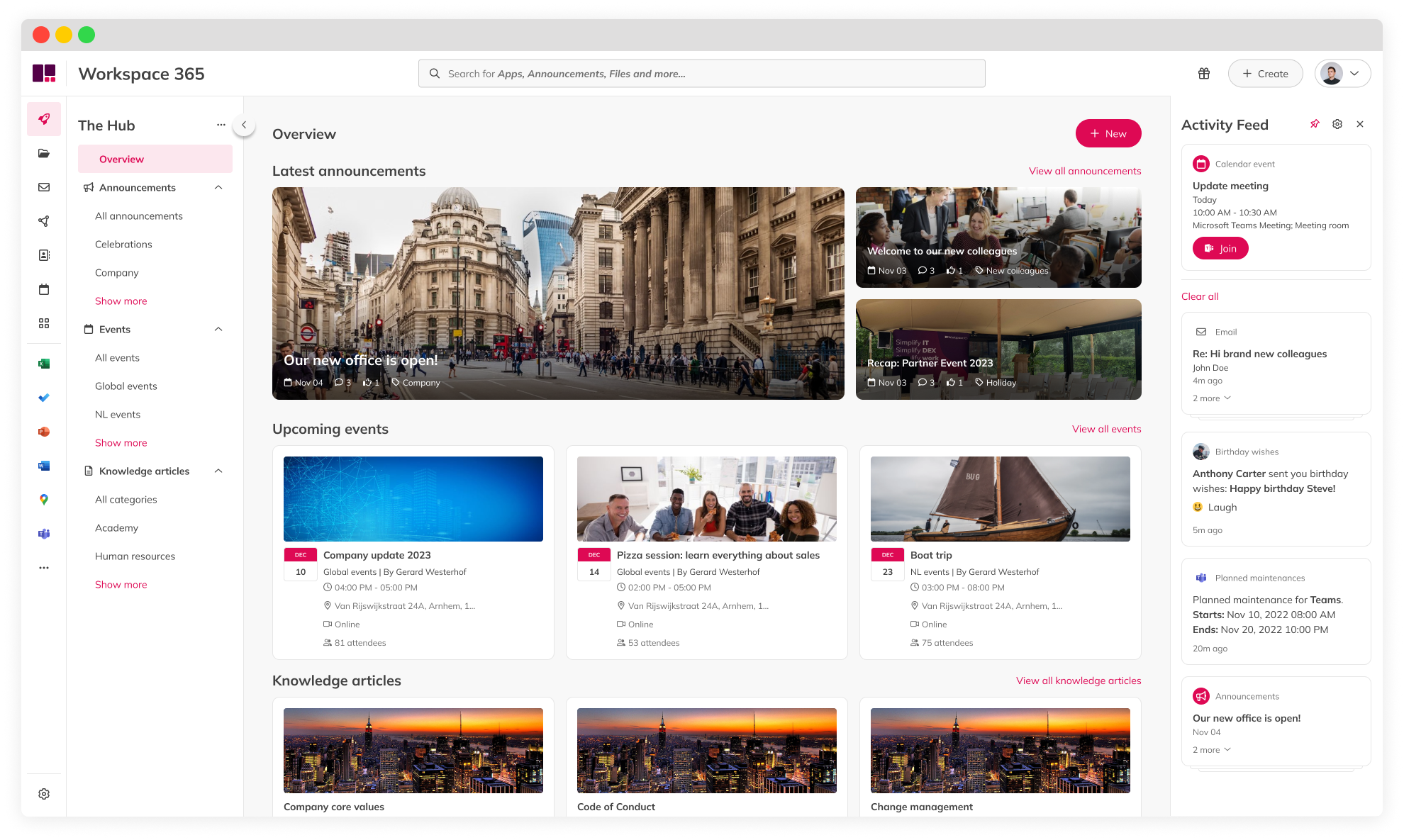 Our new Calendar app
Our Calendar app helps you to plan and manage appointments, meetings, and tasks. It makes it easier for you to stay organised and keep track of important dates and activities.
The app is also fully integrated with our Email, Address Book, and Tasks. You no longer need to use other email applications like Outlook or Gmail. Say goodbye to switching between different systems.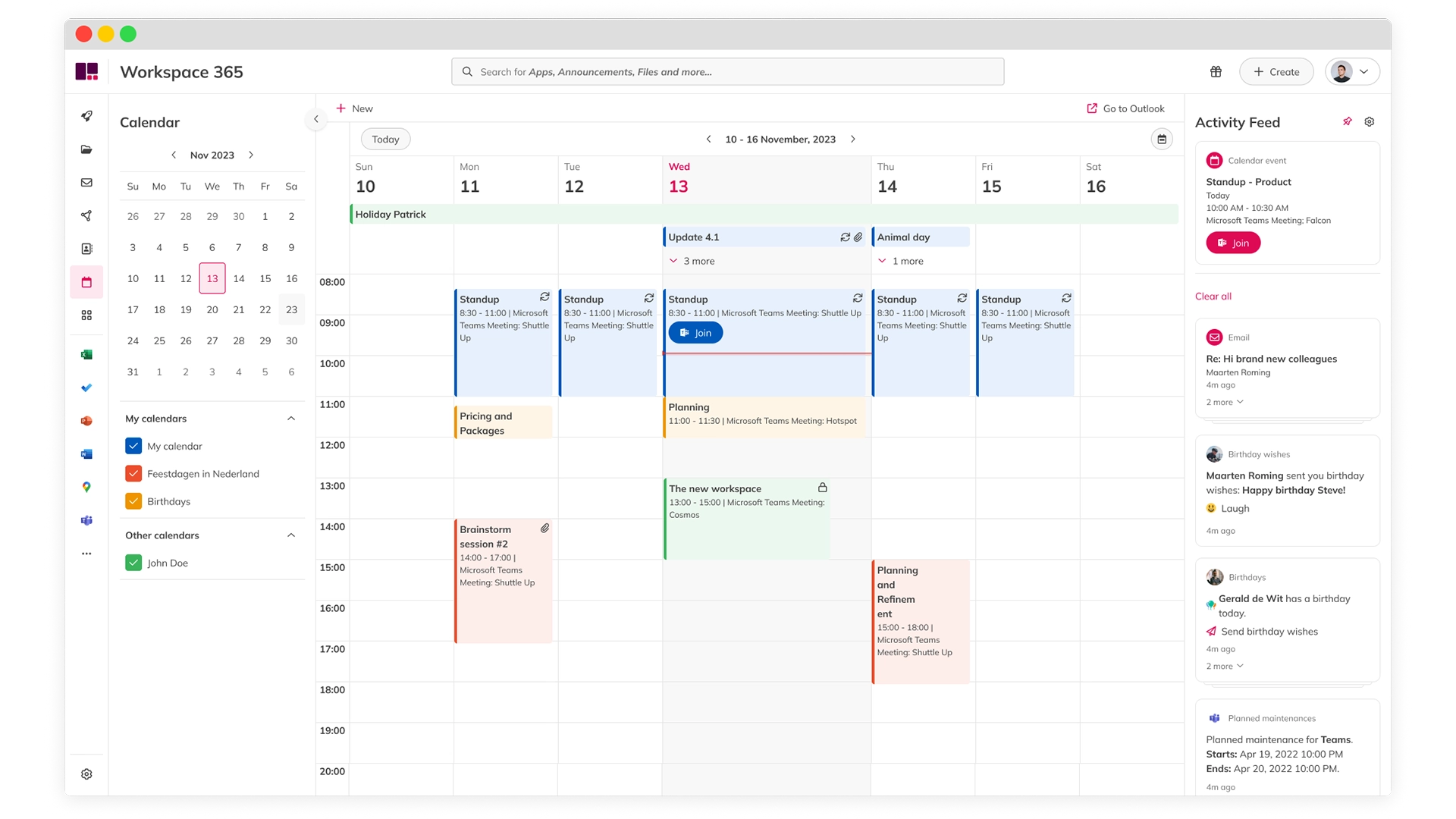 Now in the Address Book
We've made it easier to connect with the right teams and colleagues by enhancing the search options. User Profile pages already had skills, projects, interests and availability, but we've added departments and office locations too. It's a helpful feature, particularly so for new employees. When onboarding, they can easily learn who's who, discover more about their colleagues, and begin to create a network within the organisation.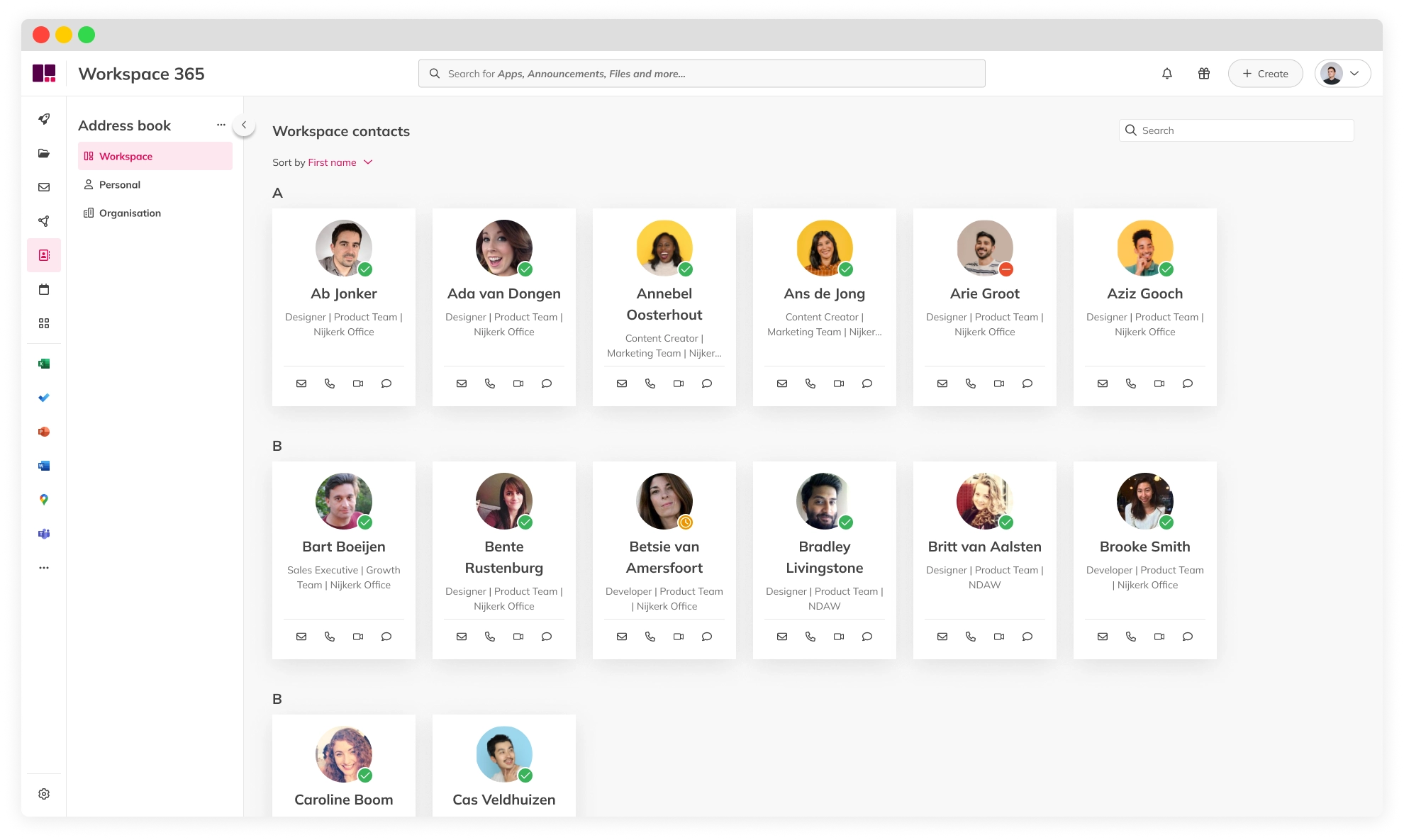 Increase productivity
Simplified workflow
When work is disjointed and disorganised, it's hard to feel productive. Time is wasted switching between tasks or applications. Focus is lost, which is frustrating. But when you're using an adaptive digital workplace designed for flow, with easy access to everything you need and no unnecessary complications, work feels less like work.
Global Search
Frequently Used Apps
Activity Feed
Global Search
Frequently Used Apps
Activity Feed
Global Search – more prominent and smarter
Our Global Search has always been the effortless way to find all your information, regardless of location. There was no need to waste time navigating between different folders or applications, but now we've made it even better. Instead of you actively searching for information, we learn from your search behaviour and automatically provide you with the right content, regardless of the source. It's like our Global Search knows what you need before you realise it yourself. Work smarter, not harder.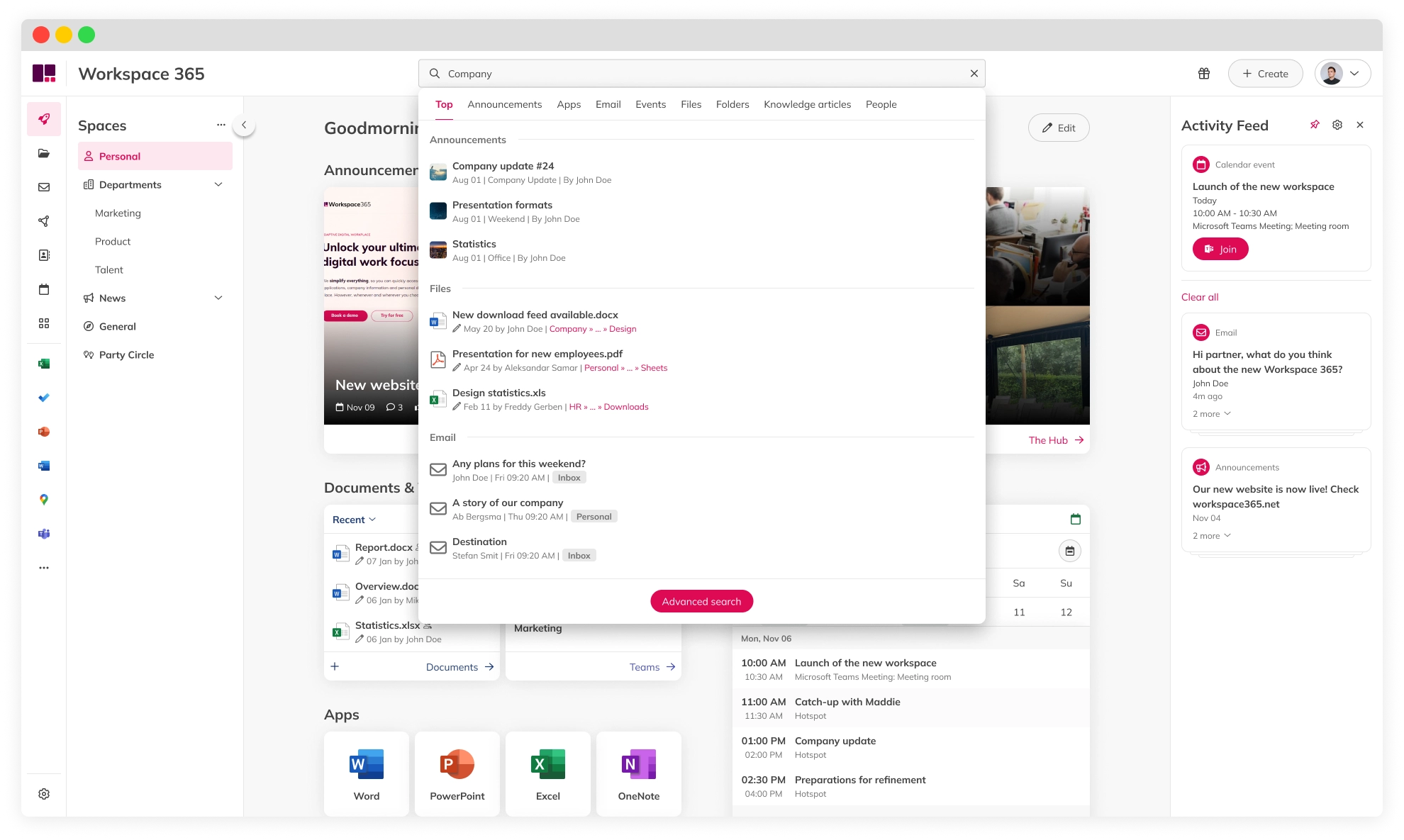 Quickly access your Frequently Used Apps
We've integrated Frequently Used Apps into the new improved navigation. We've popped them just below the standard apps on the left-hand side menu. This makes access quick and simple, removing the frustration of searching for your favourite apps. If your usage of the apps changes over time, the selection changes too, so that it's always appropriate for the tasks you do most frequently.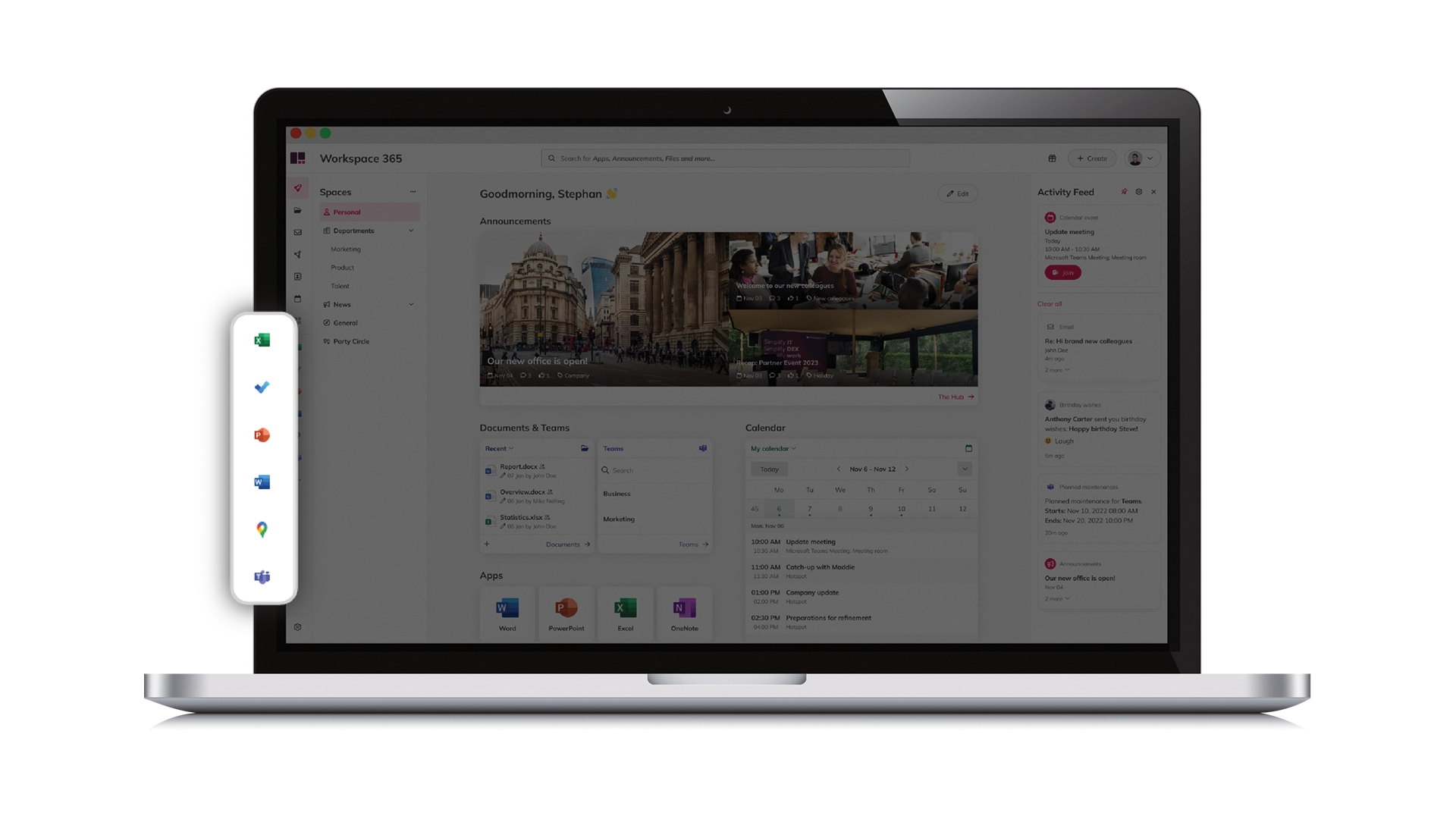 Work quick and smart with the Activity Feed
In the new Workspace 365, the Activity Feed has been given a more prominent place, giving you everything in one overview. Did you know that you can customise the Activity Feed to match your personal interests? This way, you can ensure that you only receive relevant content and updates, tailoring the feed to your specific role and interests.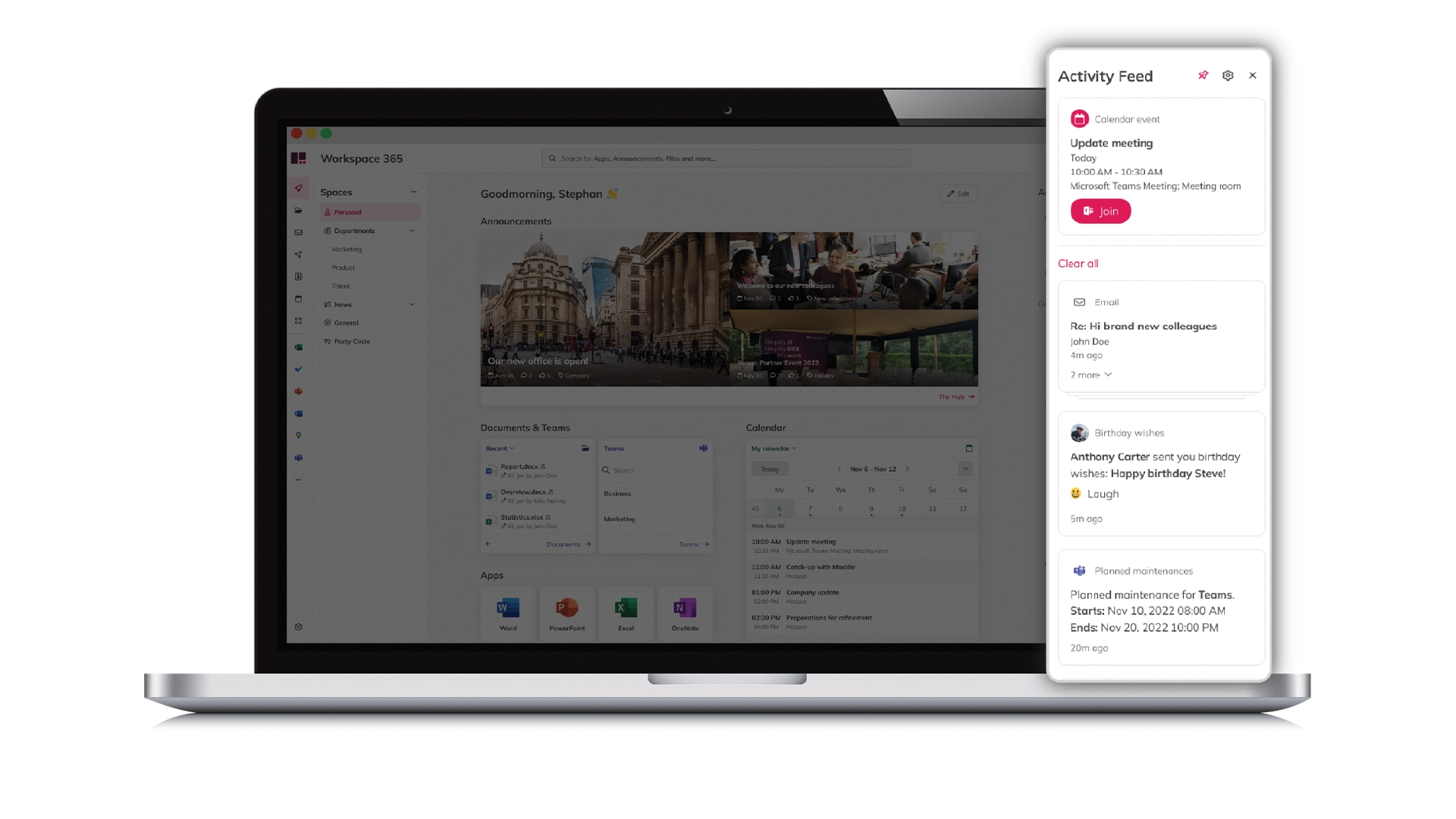 AI and integrations
Big advances… And there will be more
IT simplicity remains essential. Whatever happens, we're determined to ensure employees are empowered, not overwhelmed.

The power of AI and integrations
We will leverage the power of AI, to guide you through your day. We're currently working on a new feature – My Day – which will bring more powerful personalisation to the digital workplace.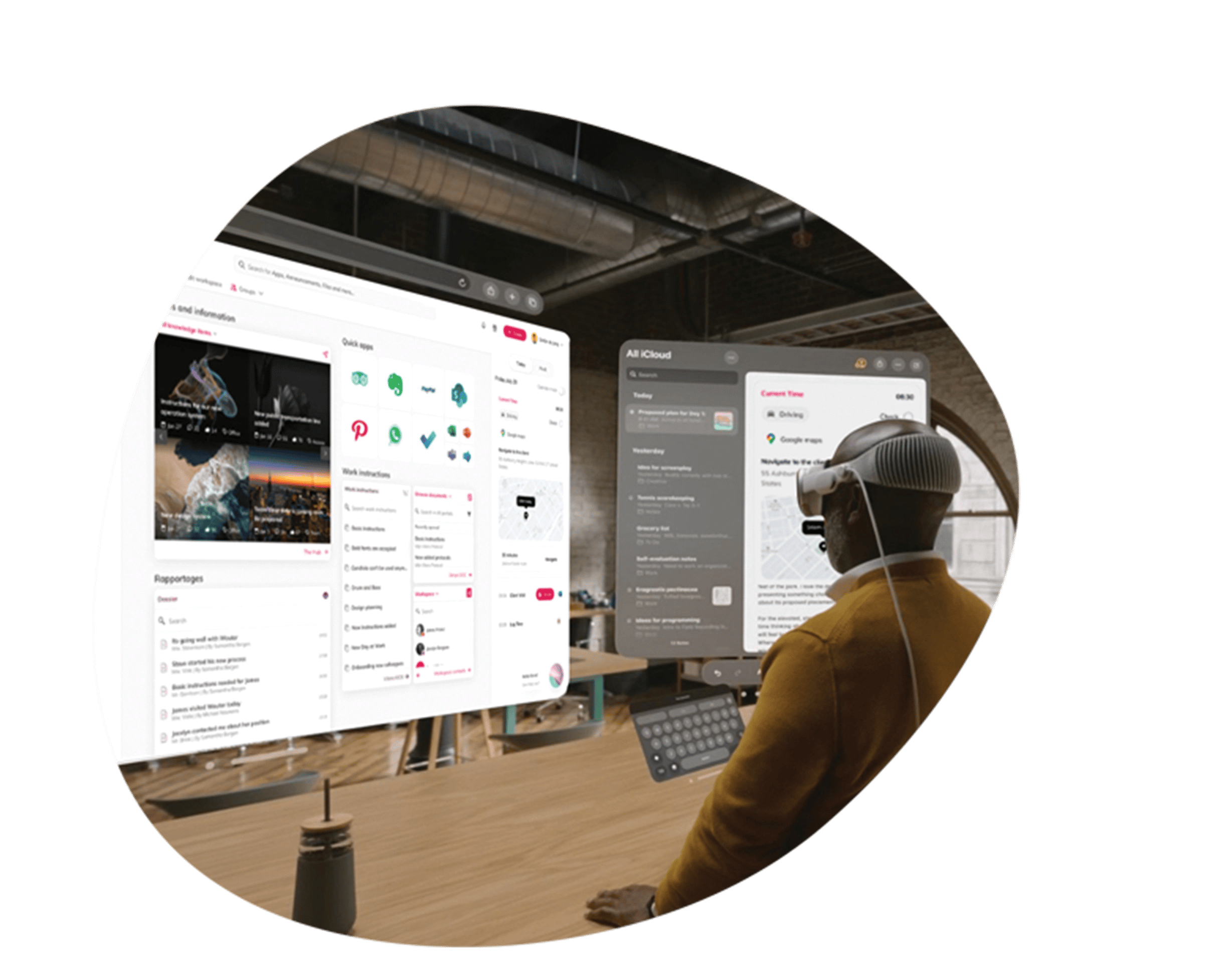 Simplify the digital experience
Digital Employee Experience
Workspace 365 is designed to grow with an organisation, accommodating changes in size and complexity. We're committed to improve the Digital Employee Experience – that will be at the core of any new Workspace 365 development. Every user should be able to enjoy the focus that enables them to perform at their best.

We've created a platform that delivers now and will continue to deliver long into the future. It's advanced technology, but it simplifies everything.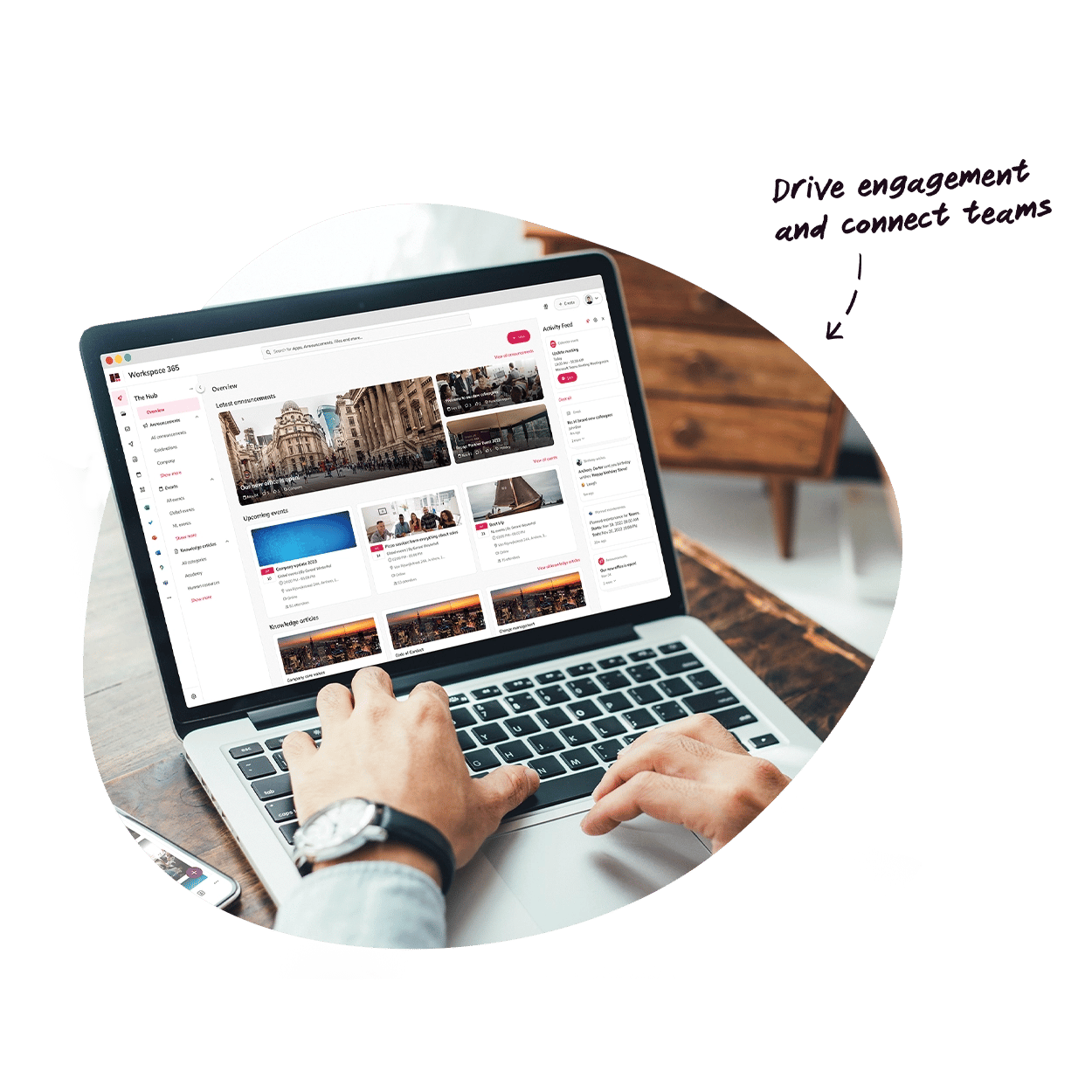 The new Workspace 365 for your customers
Are you a Workspace 365 partner?
Together with you, we enable employees to be more productive, to stay organised and engaged, and to make well-informed decisions. Simplifying their digital experience provides the key to great work. Get ready to discover the new Workspace 365 for your customers.
Unlock your digital work focus today!
Help your employees harness their full potential with our adaptive digital workplace.